I'm a fan of The Bachelor. There, I said it. Don't hate, cause I'm not ashamed. I love the drama, the romance, the possibility that there will be a happily ever after and the clothes. Yes, the clothes. Sometimes you see a girl and her clothes are on point. She looks hot, and she knows it. Other times, (and these are really the best of times) girls are just a hot mess--not only do the clothes just not work, but some of these girls are just plain CARAAAZY. I'm not gonna point fingers at the hot messes in this bunch ('cause y'all know who you are), but feel free to enjoy the clips below. It just really doesn't do justice to this lovely young lady's level of... well... um... she was special.
On a side note, I REALLY love how she tries to brush off the crazy. Um... yeah. Michelle, honey, all of America saw you acting a fool. They can only edit things so much, and Chris Harrison has even said they had a camera on you at all times. You can't brush that off.
Aaaanyways. Back to the clothes. Take, this season for example. We have a plethora (big word) of available ladies on the show, tons of dramatic moments that are poised to rip your heart out, and fantastically cheesy music to set the stage. On the wings of loooooooove.... Anyone? Anyone? No? Alright, I'll move one.
Some of these ladies look lovely, and are every bit a lady. My favorite fashionistas this season are Tenley and Ali. Tenley looks adorable in just about everything she wears. A-DOR-ABLE. (Of course, if I was a size 2 former Disney Princess, I'd look good in everything too.) Take the dress from last night for instance... that sassy green number was just precious. I don't know where she got it, but it totally reminds me of the dress I've been obsessing over from the
Leona Collection
. (The pic is below.) I swear, if it hadn't sold out before I could buy it, that beauty would be hanging in my closest as we speak. Hint, hint Leona Collection. I'm a size 8. (Kidding, kidding... Sort of.)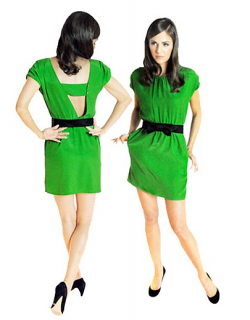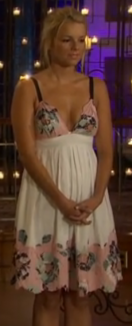 My other favorite fashionista is Ali. This girl can rock out some kicks at a rose ceremony, or go completely formal in some BCBG. She's just my style. Fashionable, yet fun. Casual, yet cool. Personally, I think she's a little too worried about Vienna (don't GET me started on her... yeesh), but her style is fantastic. I want to go shopping with her. There's such a thing as parasocial interaction (when people think that celebs would be their friends if they were to ever meet*), but is there such as thing as parasocial fashion interaction? Because I'm pretty sure Ali and I would be the best shopping buddies.

In fact, I love some of the styles so much, I forget about the plot of the show. So this week, (SPOILER ALERT!!!) when the my neighbor was sobbing from Ali leaving, I was searching the internet for Ali's clothes... again. I'm just saying, that dress is too cute. I want it.

So, yeah. I really want ABC to change their interview format around a little bit at the end of each show. Instead of asking the girls how they feel about situations, they should ask them where they got their clothes. Cause if you think about it, wearing clothes on this show is possibly one of the greatest product endorsements you could get. Forget social media, fashion lines just need The Bachelor... wait, I didn't mean that.

So, Ali, what I really want to know (other than how your heart is doing) is who are you wearing? More importantly... where can I get it?

C