There are some wonderful benefits to being done with your dissertation (yes, I still have a few edits to make, but...at least I have time to breathe now). The sky is bluer (despite the crazy tornadic weather the AL/MS area seems to be having), the days are warmer (or maybe that's summer coming), I get to sleep more (or maybe that's the tonsillitis I am currently fighting). There are a ton of benefits... really.

One of them is that I actually can enjoy cooking again. Have I mentioned that I like to cook? No? That's because I've been dissertating for the past 6 months... nonstop. But, we've survived that, and I'm getting back to me. Slowly.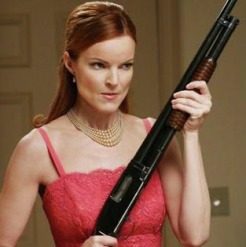 Like I said, one of the things I love to do is cook. I'm no expert, but I love to come up with recipes, try new things, and make my friends join me for dinner. It relaxes me. I'm sort of like Bree Van De Kamp that way. I'm happiest serving others... especially if it means making some skinny girl eat something.

Okay, so the picture doesn't exactly suite, but it cracked me up... and I couldn't find one that she didn't look a little crazy. Now that I think about it, maybe Bree isn't the best example. Hmm...

Anyways... here's a little something that I whipped up while watching that tornadic weather the other day. I didn't exactly have a recipe, but I was inspired by my friend, Kate, and her
blog
about the Paleo lifestyle. I changed her recipe up for my preferences and here's what I came up with.

Tomato, Feta, & Spinach Stuffed Chicken
1-2 lbs chicken breast (thawed)
2-3 Roma tomatoes - chopped
2-3 garlic cloves, finely chopped
6 oz spinach
1/4 cup cilantro
1/4 cup crumbled feta
Olive Oil
lemon juice (or lime juice)
Drizzle olive oil in a frying pan over medium heat. Add tomatoes, garlic, and chopped cilantro to the pan. After a few minutes, add the spinach, squirt with lemon juice, and cook it till it wilts. Remove from heat.
Butterfly cut the chicken (cut vertically down the middle until almost through but not all the way). Place Saran wrap on the chicken and pound flat but without breaking through. Uncover Saran wrap, and place string underneath chicken breast (this will be easier when you tie it off).
Once the meat is thin, add the ingredients from the pan on top of the chicken. Add feta, and freshly chopped cilantro.
Gently roll into a tube/roll. Tie off with string, or use toothpicks, & carefully transfer to baking pan.
Drizzle with olive oil, lemon juice, and add a dash of cilantro.
Bake at 375 for 40-60 minutes until chicken is golden brown, and juices are flowing.
Before, meet after. And, yes, I used dental floss to hold them together. Don't judge.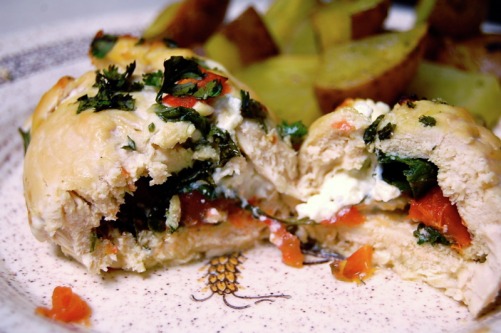 It was a totally new recipe for me. And I must admit, it was as good as it looked.