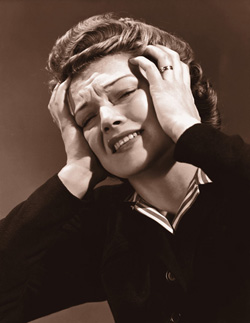 Imagine this: You're on a second date. The first date was wonderful. You think he might be prince charming... He's funny, he's smart, he's taller than you, he's handsome. But then, out of nowhere, the date goes south. Not only does it crash, it crashes into a million pieces and burns… a lot. When it does, you just want the agony to stop.

Bad dates. We've all been there. I don't know a woman (or man) my age that hasn't been on one. But have you ever been the cause of the bad date? I hadn't... until this weekend. And I am SO utterly embarrassed.

I was out with a guy on a second date and I actually snapped at him. Granted, I didn't mean to get snippy... really. (Personally, I think he kinda deserved it, but that is neither here nor there.) The date was a nice guy, really. But he teased and was sarcastic the majority of the date. I get sarcasm; I do snarky… but not 100% of the time. After a certain point, I can't take it any more. So I snapped at him. I probably shouldn't have done it, but I did it anyway. To be honest, it was like I was watching something out of a movie. My inner voice was screaming "NOOOOOOO!" But I couldn't undo it, press the rewind button, or crawl under a rock. Nothing. I just had to apologize and brazen through it.

His response? "Well, that was fun… Other than you yelling at me."

Great.