Call me crazy, but I love lightbulbs.

No, not the Thomas Edison type of lightbulb, but the figurative ones. The ones that I get to see pop up above my students heads. If you have ever been an educator of any sort, then you know what I'm talking about. It appears the instant a kid gets it. You can try to hammer it into their heads until you're blue in the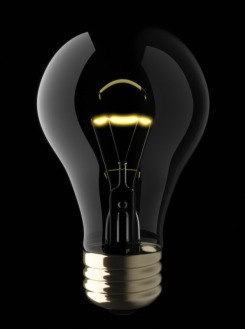 face. You may be frustrated and think you can't explain it anymore... but then, all of a sudden, a light flickers on and it changes your entire day. You can do anything; you can teach anything; what you're doing matters. And, that lightbulb inspires you to find new and different ways to get other lightbulbs. Because, as a teacher, your main goal is for your students to get it, to understand, and to want to know more.
I think my love for lightbulbs started at
Space Camp
. Laughing? Go ahead, get the jokes out of your system... I've heard them all. And you know what? I don't care. It could quite possibly be the best job/experience I've ever had. Got it out of your system? Good. Okay... like I was saying... Space Camp.
It was working at Space Camp that I first saw the lightbulb. I was explaining the propulsion system of the STS (space shuttle) and looked at my team to discover... lightbulbs. Lightbulbs were everywhere. Granted, we were sitting under a life-sized shuttle stack, but it could possibly be one of the greatest teaching moments I've ever had. Sixteen little bodies with 16 little lightbulbs above them. It was truly fantastic.
I got a couple lightbulbs today, and it made my day. I decided to scrap the lecture in order to spend one on one time with the students and their research projects. As I went to each group, I noticed something... after I left, there were a couple lightbulbs flickering. They weren't everywhere, but there were some definite sparks. And it reaffirmed my belief in the value of one on one time with students. We can wax philosophic about a topic all day, but until we show the students how to do something, and let them think it through, we may never get any lightbulbs.
An old Chinese proverb says it best. "Give a man a fish and you feed him for a day. Teach a man to fish and you can feed him for a lifetime." Same with students. Give a students the information, they can pass a test. Give a student a lightbulb, and they will learn for a lifetime. As my friend
@BarbaraNixon
told me, "sometimes it's an incandescent & other times it's a slow, flickering fluorescent. But all lightbulbs are good." And I agree. Students may not get all of it all of the time, but as long as I can still see a flicker of light somewhere, I'm in.
At least that's my take.
C