This past semester, I have had the privilege to teach some of the best and the brightest PR students in the nation. How do I know this? Well, two reasons. First, The University of Alabama's Advertising & Public Relations department has recently been ranked the #1 undergraduate PR program in the nation by PR Week. We even have a sign to prove it.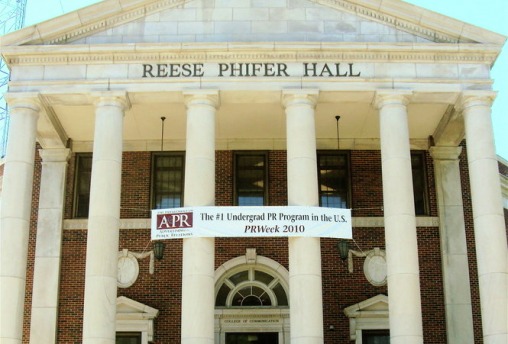 I've been a part of teaching in the APR department since January of 2007, and let me just tell you, there are some exceptional students here at Alabama. As corny as it may sound, I really love these kids. I honestly think that some of them have the potential to take over the world. (When y'all do, just remember Ms./Dr. Nichols, okay?)
The second reason? Well, when you challenge the APR students at Alabama, they will rise to the occasion. Case in point: PR Campaigns. This semester my PR Campaigns students had an extremely challenging and rewarding start-up company for their client. I'm sure it scared them to death at first, but in the end, the client was extremely impressed. They even told me that the work looked like it was done by a professional agency. My response? A gentle smile and an "Of course. That's what we do here are Alabama." (Although inside my head I was doing some major fist pumps, but I think I pulled off serene and knowledgeable.)
The thing about teaching college students is that not every student is going to like you. In fact, some may hate you. But if you challenge them & they learn, then you've done your job... and I'm okay with that. While teaching in the APR department, I've learned that my job is not to be their friend, but to get them ready for the real world... and I think I do. In fact, I got one of the best possible compliments in an email from one of my students today:
"Needless to say, the campaigns class was quite a struggle. However, it taught me more than any class I've ever taken. As odd as this may sound, thank you for being so demanding. You have been in the 'real PR world,' and I now know what kind of standards will be set for me in the future."
I just about cried. Listen, I know that I'm a demanding prof, I know that I expect a lot out of them, but I also know they have the ability to do anything they set their minds to. So, I challenge them. They may not like me for it... but they definitely learn something by the time they are finished with my class.
Before I get any further, let me just say that NO campaigns class is easy. Students have to take everything they have learned up to their final semester and integrate the information into a seamless campaign. It is very intimidating. I remember being there *cough cough cough* years ago, and it was scary as hell. You wanted to do well, but you were also terrified that everything would fall apart and you would never be able to graduate. (Whoa. I'm having flashbacks.) But, I also remember the point that it all clicked because I had an
awesome professor
that challenged my team at every turn and changed my life. (Thanks, Dr. Mullins.) I want to be that professor for my students, because I know, beyond a shadow of a doubt, that they can do it.
Okay, so back to my PR Campaigns kids and their extremely challenging/rewarding client.
Like I said, the other reason that I know I've worked with the best and the brightest is that when I challenge my students, I
really
challenge them. And, man, do they ever rise to the occasion. Our client this semester was a VERY unique one. Think your kids can handle a local non-profit? Great. How about a national start-up company that has 3 target audiences and a VERY unique position in the market? When I say start-up, I mean a company that is a week old. Did I mention I like to challenge them (and myself)? Yeah.
Enter
PlayScience
. According to their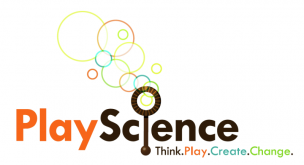 brand-spanking new website, "PlayScience is a research, consulting, and innovation firm on a mission to break down the walls between industry innovators, academics, and consumers. We are passionate about helping organizations create groundbreaking play and entertainment products that have a positive impact, especially for kids and families. We offer a full range of research services, from in-home ethnographies to nationally-representative surveys using our proprietary PlayLab research panel. From start-ups to the big players, we provide strategic consulting and innovation services to help them understand and engage their audiences and consumers."

For those of you who still don't get PlayScience, here is their vision: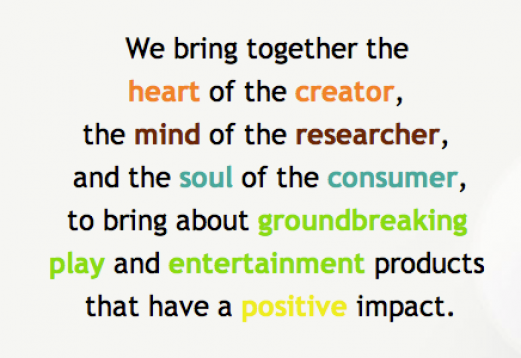 In essence, they want to be able to link academics, families, and the media industry so that better products can be made to entertain AND educate kids. (If you are a parent and want to participate, read about
PlayLab.
) That's a lot to wrap your head around, right? Now, imagine you are a college Senior and you have to come up with a PR campaign for this company as your capstone project. You hate me already, don't you?
Can you imagine the sheer panic that my students probably experienced when I tried to explain PlayScience to them? For the first couple weeks of class, I had A LOT of deer in the headlight stares. They probably thought I was crazy. Heck, I may have been.
But, after a semester of cursing my name and my red pen, they had AMAZING final projects. I saw so many light bulbs go off this semester, it was ridiculous. One by one, they started to get it, and slowly but surely their campaigns formed. They understood the client, and came up with unique ideas in every single campaign. At the final presentation, the client was blown away. PlayScience told the students that if they took their campaign books into any job interview, it could very easily land them the job... because they had done professional, quality work.
I'm not going to tell you about the specific ideas that they came up (because that's confidential). However, I will tell you that @
PlayScience
is already implementing them. My students can go into the workforce knowing that a national company is implementing their ideas. That's pretty cool.
And to make the semester just a little more interesting, the teams competed for an "A" in the class. If the client chose their campaign as the winner, then the students in that group got an "A" for the semester, no questions asked. It got pretty competitive, and I'm pretty sure that a few hearts were broken when the winning team was announced. But the client fell in love with the Aqua campaign, and it was a good one. (Congratulations, ladies, you did a fantastic job.)
To ALL of my students:
You did an exceptional job, and should be very proud of yourselves. You not only survived the class, but you thrived under extreme circumstances. I am very proud of you. I know it wasn't easy, but I really hope you learned something. If you ever have questions, just ask.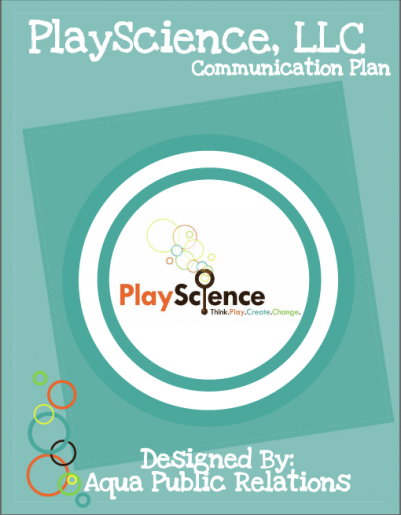 If you are interested in hiring one of my students, please contact me. They are extremely bright, hard-working, and were willing to put in the long hours needed to create professional-level, quality work. If this semester is any indication, they have VERY bright futures ahead of them.

Note: All information about PlayScience shared or created in this class is strictly confidential. The information in these campaigns will not be shared outside the parameters of this class.