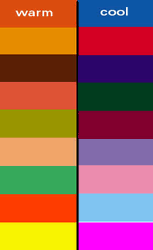 Warm: No, Cool: Yes
My first week at Oklahoma State is done, and I have to say, I have that shiny happy feeling. Granted, it is just the first week, but I really like it. There are some smart kids here, and I am definitely looking forward to seeing what they come up with.

However, there is something that is bothering me. I loathe to admit it, but I will. You ready? Here goes:

My name is Cynthia, I'm an Oklahoma State Cowgirl, and I look horrible in orange.

There, I said it. I can, however, pull off a soft tangerine or coral when needed. And that need may be on every Friday. Apparently, everyone (AND I MEAN EVERYONE) wears orange on Fridays. Normally, I would totally support school spirit, but orange isn't exactly a good color for me. I look good in cool tones, jewel tones, and softer hues. Bright orange... not so much.

However, I love this job, this school, and my students. So, even though I look horrible in orange and most warm tones, I will try my hardest to pull it off.

With that said, I'll leave you with a Roll Tide! & Go Pokes!