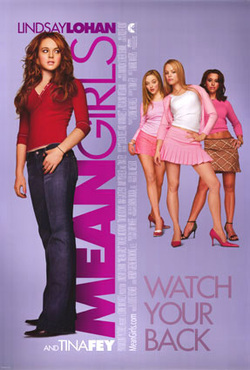 I'm noticing a disturbing trend: Mean Girls.

They have escaped from that *ahem* classic Lindsay Lohan movie and are starting to show up in our universities. I have noticed—rather consistently—that young women in universities can be just plain bitchy to each other. For some reason, it has become unfathomable for people to be kind, supportive, polite and understanding. Instead, mean girls are trying to make others feel like crap. Consistently. And I just don't get it.

Don't get me wrong. I have worked with some fantastic young women. Some of the students I work with honestly awe me with their kindness, respect for others, work ethic and generosity. However, there are WAY too many people who are starting to act like mean girls. Maybe they are just REALLY passive aggressive. Maybe it's the fact that we're in a social society, and for some reason we feel the need to put everything we think online. (Yes, I notice the irony in that statement.) Maybe I'm just now noticing it and it's been happening for years. Maybe it's just the industry I'm training these young women to be in. After all, we see cut throat PR pros on TV and the movies all the time and those portrayals could skew the perception as to how our industry behaves. (FYI – In the real world PR is about RELATIONSHIPS, not being the biggest bitch.) Maybe that's not it at all.

But it makes me wonder: Have we trained people to become mean girls or are we merely allowing it to be acceptable?

I understand that our society raises people to be the best; that there is undo pressure to always have an "A"; but somewhere along the way, treating others with respect was forgotten. Maybe I should blame helicopter moms. I've seen my fair share of them, and trust me, they need to chillax. By constantly pressuring kids to win, they don't get the important lesson of learning how to lose, and how to treat others (and yourself) with respect. After years of that kind of pressure, I can understand how a person could be trained to act without regard to others.

I understand that college is a competitive place, but we're not talking men on the gridiron here. We're talking about young women being mean for no reason. And it isn't just each other, it's to female faculty & staff as well. I keep seeing young women questioning the authority of female professors and administrators, just because they can. It's like their attitude is: "You're a woman/ young/ blonde /a different culture/ homosexual/ fill-in-the-blank, what do you know?" They don't care about professional experience or degrees; they just see the other women as competition. Don't we get enough of that in our society as it is?

Women and under-represented groups have been fighting for equality for years. And the sad truth is that we may never get it… because we refuse to treat each other as equals and with respect. The sad fact is that the denigration of women is prevalent in society: the "C" word is used with startling regularity; women are called 'bitch' and 'ho' without a thought; and in some circles of society, our value is merely our beauty and sexuality. If young women continue to act like mean girls, it is just perpetuating the problem. But, it doesn't have to be that way. WE can change it. By making simple decisions to treat others with respect, we're fighting the good fight. By choosing our words carefully, we prevent misinterpretation and hurt feelings. We need to uplift each other, not tear each other down.

Listen, I get that your parents think you hung the moon. But guess what, you aren't the best or the brightest. Because no matter how hard you try, there is ALWAYS going to be someone smarter and more talented than you. Harsh? Maybe. Blunt? Probably. But it's the truth. How you deal with that truth defines who you are. Are you going to be threatened by it and put up a mean girl wall? Or, are you going to embrace people for their differences, talents and intelligence and grow some in the process?

Here's another truth for you: Being a mean girl is the same thing as being a bully.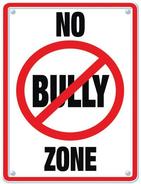 I don't know how or why mean girls think their behavior is acceptable. Maybe because they've always gotten away with it. Maybe because they think that's how the world works. Maybe they're spoiled rotten. Maybe they just need to grow up.

As a woman and a professor, I'm just plain disappointed. I can't seem to understand the passive-aggressive pettiness I'm seeing and have been seeing (and experiencing) for YEARS. I usually ignore it, but recently, the straw done broke this camel's back, and it's time to take a stand. I'm not going to put up with it anymore, and when I see it, I'll call people out on it. Don't bring it into my classroom, don't bring it into my school. There is absolutely no reason to not be nice to other people. You aren't helping yourselves, and one day you are going to have a very rude awakening. Listen, being a bitch may be easy, but it doesn't pay off.

Just think about it.