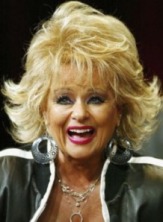 So the good news is I'm single and ready to mingle… or at least I think I am. The bad news is my boyfriend dumped me out of the blue because he doesn't have "feelings" for me. This, a week after he drove 11 hours to surprise me for Valentines Day. Confused much? Yeah. Me too.

However, the other good news is that I believe in the power of retail therapy. As the ever stylish Tammy Faye Baker has said "Shopping is cheaper than a psychiatrist." True Tammy Faye, very true. (Does that picture scare anyone else? Yowza. It's a very prime example that sometimes more really is just more.)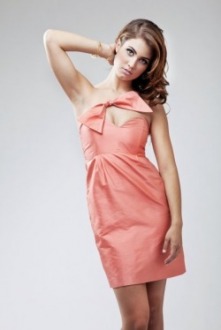 So, the morning after I was left standing at the proverbial curve, I decided I needed to take action. The dress that I've been eyeing from
Leona Collection
was going to be mine. It would make me feel better and look fabulous. After checking online, I was only able to find a 6 and a 10. I highly doubted I'd fit into a 6, and after losing 30 pounds, there was no way on God's green earth I was going to wear a double digit dress. I've worked too hard for that. It would have been salt in the wound. Really. So, I went to the only shop in town that I know of that carries Leona Collection,
The Shirt Shop
… and what do you know, they had a size 8 that fit perfectly. And the people rejoiced.
On a side note, does anyone else vent to sales clerks? No? Just me? Hmm… maybe I should stop doing that, because when I was checking out, the owner jokingly offered to buy me a shot at the restaurant next door. Yeah, I definitely need to not vent to sales clerks. Whoops. But you know, it's kind of funny, when women are upset about something, we eat or go shopping. When men are upset, they just invade another country. I think it's a whole different way of thinking. (Why, hello, disposition theory…)
So, yeah. I have a new dress (one that Taylor Swift also owns), and I look fabulous in it. Now, all I need is an event. Actually, who cares? I'll just wear it while I work on my dissertation this weekend. Does the dress make me feel better? Yes. Permanently? No. But, it gave me that little boost to get through an otherwise awful day. The rest, I can deal with. So let's hear it for retail therapy.
Whoever said money can't buy happiness simply didn't know where to go shopping.
 -- Bo Derek