I'm a big fan of figuring out healthy meals. I don't necessarily need a recipe, I just come up with things that sound good and inspire me. Today's meal was inspired by… the random items in my fridge. Wild, I know.
So, here's my Turkey Asparagus Pasta. (Yes, Mom, I ate asparagus. No one forced me.)
Food:

1 package ground turkey

2 Tablespoons Rasberry Wasabi mustard (or spicy creole mustard)

1 bound stalk of asparagus

4-5 roma tomatoes

dollop of olive oil

2 cups pasta (uncooked)

Lemon Juice

3 garlic cloves

Parmesan cheese


Dishes:
one pot, two skillets

Boil pasta in the water. When the pasta is done, drain and rinse with cold water. Set aside.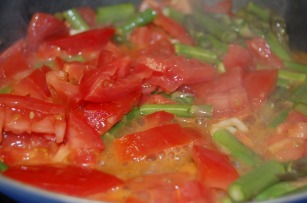 Dice the garlic (keep one clove separate) and roma tomatoes. Chop the asparagus into 1-inch sections. Add a dollop of olive oil and lemon juice into a skillet, put on medium heat. Add the three garlic cloves, tomatoes, asparagus to the skillet.
Let the vegetables sauté together (about 5 minutes).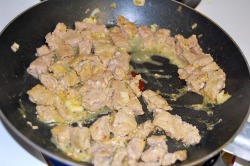 At the same time, sauté the ground turkey in the second skillet. Add two tablespoons of raspberry wasabi mustard* and the final clove of diced garlic into skillet.
Once thoroughly cooked, add meat to sautéing veggies. Let simmer for a minute, then add pasta.
Toss and plate. Add parmesan cheese to taste. Serves 2-3.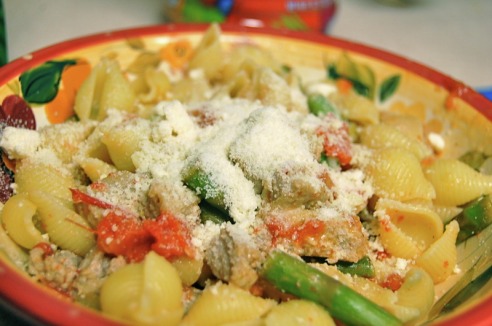 And just so y'all know… It was delicious. However, I did burn my tongue because I was impatient. Dang it.

*Random food item in my fridge, but you could use spicy creole mustard as a substitute.