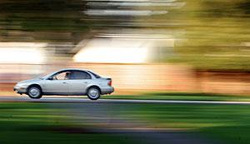 Recently, Forbes.com listed America's top 5 fastest roads, and guess what… one in OKC was on the list. It was a really interesting article, but I have one problem with it: they didn't dig into WHY people sped on these roads. Before I get into that, here are the deets on how they determined the fastest.
Forbes first looked for "stretches of roadway where motorists routinely floor it, then it found the speed range at which each roadway's fastest 5% of drivers travel." They then "multiplied that figure by the length of each road to decide the final ranking." I know, there's math, but you can keep reading, it'll get easier. The result was a list of roads where "drivers put the pedal to the metal over fairly long distances."
Okay, now that I've fried all your brains with that crazy thing called math, here are the 5 fastest roads in America:
5. Arizona State Rte 77 - Heading N out of Tucson up the AZ-76/Redington Road near San Manuel Airport
Average speed of fastest 5%: 81 mph
Top speed clocked by INRIX: 81 mph
Length of corridor: 4.8 miles

4. Eastbound MI-5 Michigan Hwy - Heading into Detroit from the I-275/I-96 interchange to Telegraph Rd
Average speed of fastest 5%: 81 mph
Top speed clocked by INRIX: 83 mph
Length of corridor: 4.9 miles

3. California State Route 73 - In both directions between Moulton Parkway and Bear Street
Average speed of fastest 5%: 81 mph
Top speed clocked by INRIX: 85 mph
Length of corridor: 14.8 miles

2. Oklahoma State Highway 33 - In both directions just Northwest of Oklahoma City
Average speed of fastest 5%: 83 mph
Top speed clocked by INRIX: 87 mph
Length of corridor: 24 miles

1. Northbound Arizona State Route 79 - Between Saguaro National Park and Phoenix
Average speed of fastest 5%: 88 mph
Top speed clocked by INRIX: 94 mph
Length of corridor: 17.6 miles

I don't know if we should be proud or ashamed that we're clocked in at #2. On one hand, we should never drive recklessly. On the other hand, some of the greatest fried chicken to ever grace the planet is on the other end of that road.

This may be over-simplified, but Eischen's the reason why we drive 87 mph. The chicken is divine… it's the Oklahoma ambrosia of the Gods. It's so good that people don't care that they only take cash. It's so good that women are willing to forget their diets for the night. It's so good that people are willing to risk major fines for speeding.

Seriously, y'all, this fried chicken is amazing. The chicken here has been described as "the best fried chicken I've ever had," "freaking AWESOME!!" "Delicious. Never have I had such juicy, flavorful, crisp, melt in your mouth chicken as I did here." I'm not making these up. I could, but I don't need to. It has been featured on the Food Network's Diners, Drive-ins, and Dives, and Guy Fieri practically drooled over it. Granted, with the outfits he wears, I question his taste in general, but he isn't wrong in this case. Eischen's is a mecca of fried-chicken awesomeness.
Here's the best review of Eischen's I could find: "Eischen's Bar is the perfect place to unwind and soak in the Oklahoma glory. The ride to the small town of Okarche yields abandoned buildings along the highway, cows standing in groups in the shade, and a cowboy couple riding their trusty steeds in the late sunlight. Yee haw! Eischen's is the cherry on the Midwestern sundae, the creme de la creme of the red dirt state, the de facto standard of all bars Oklahoman."

Oklahoma City loves Eischen's, and we're willing to risk it for the juicy goodness. Now, I can't tell you why the other locations were listed, but I can guess. More than likely, the locals know there's a great local restaurant on the other end and have to hurry before all the tables are gone.

Really, Forbes, I expected more of you. As I would tell my students, "You need to dig a little deeper, you're just skimming the top of the story."

Great, I'm craving the finger-licking goodness. There goes my diet.